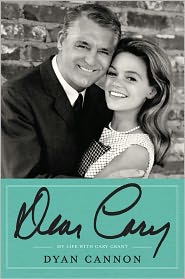 This is the year for memories of Cary Grant to float to the surface, only a few months ago his only daughter Jennifer published her rather mawkish memories of her adoring and devoted father. It is now the turn of Grants 3rd wife, Actress and Director Dyan (Diane) Cannon to write her rather searing version of life with the gentlemen who was considered one of old time Hollywoods most suave and debonair leading men.
A very young Dyan met Grant when he was 58 after he actively made overtures via friends and contacts, thinking that he wanted to discuss a film role Cannon eventually gave in and they met, a resulting relationship evolved. A relationship characterised by romantic gestures, generosity sprinkled with increasing ingenuity by Grant who took to calling the rather immature and naive Dyan...Silly Girl or Dear Girl, from contrasting backgrounds Grant had a dysfunctional family to say the least and Cannon a stable middle class if religiously diverse family. To all appearances their wants and needs appeared to be aligned but Grant increased the mind games, the unexplained absences and the continuous fault finding while making Cannon into his ideal and then crushing even that when feeling challenged and or remorse. He made it clear that marriage was not on his agenda while Cannon equally made it clear that it was on hers as was a family.
The high life was certainly overwhelming to Cannon but it appears she maintained a balance until Grant revealed his real plans for her, she was to find herself as he had through LSD, it took alot of persuasion but after many months Cannon relented and set herself on a path that was to bring devastating consequences but long after she shucked Sauvi boy she found herself and without the drugs. Along with the LSD came uppers, downers, coldness, silence, rages, withdrawal (emotionally and physically) a meanness that was unbelievable. Dyan had a dog named Bangs who she had had for a while, after giving birth to Jennifer (Grants only child) she arrived home to find that Cary had given away Bangs and that was that. His control was absolute, he told her concerned father she was under his juristicion and that was the end of any intervention by her family, he controlled her body, mind and soul and he was unrelenting.
Divorce followed and Cannon has gone on to make a real success of her life, a Hollywood Power broker with a resume that dazzles. Grant remarried and died at 82. For Jennifers sake they maintained a civil relationship and by all accounts the married and now a mother herself Jennifer has grown into a lovely woman, as a father Grant appears to have done good.
One walks a way from this book after reading Dyans letter of forgiveness to Cary with a wonderment at her spirit of generosity towards this man who frankly was horrible, mean spirited, nasty and morally wanting, his own dreadful relationship with his parents was no excuse for his behaviour which included pushing a very dangerous drug on his young wife even when she was carrying their child. How deluded is that.