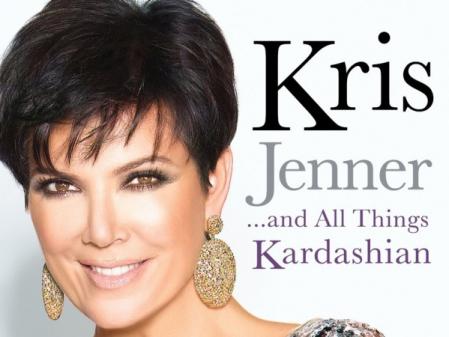 In the light of this weeks news it could only be described as fortuitous that this book hit the shelves at the same time or not.
Kristin Houghton Kardashian Jenner has always been a California Girl, dark hair not withstanding. Lively, vivacious and very pretty she parlayed hard work and a chance meeting with Armenian Lawyer Robert Kardashian into a lifestyle that could only be described as that of the rich and famous and all that entailed. Her husband gave her everything including 4 children but eventually boredom set in and Kris had what could best described as a racy affair, this brought an end to the marriage but Bruce Jenner with 4 children of his own was footloose and fancy free and lightning struck, 5 months later they were married and 2 more children arrived. Kris rejiggered Bruce`s life and turned his and her fortunes around, this was the groundwork and connection making that enabled Keeping up with the Kardashians to take root years down the track.
The book is a cornucopia of stories of Kris, Robert and Bruce's glitzy connections and gorgeous friends including throughout the book O.J. and Nicole Brown Simpson, a marriage that was stilled by a murder`s hand in June 1994.This tragedy had many outcroppings for all those involved but at the end of the day there is little doubt that they all kept secrets and they all knew who the likely killer was.
This certainly is an insiders book, it is well written, easy to read and resonates with a degree of honesty but I do think that it is a wee bit selective and a wee bit generous towards people who may or may not have behaved in the manner she tells, there is no doubt that she is ambitious not only for her children but for herself and really it comes across as now having tripped into money for moneys sake, a form of greed that is not pleasant at all, to say that the Kardashian/Jenner's are superficial and shallow is an understatement, this weeks events surrounding daughter Kim`s dubious marriage are likely to see the Queen topple from her throne. A good, gossipy read and a lesson for all in how you can loose sight of all prospective when riches beckon.